July 21, 2022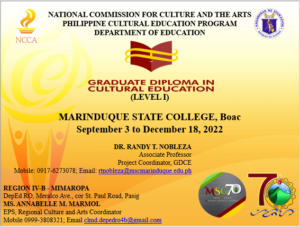 Boac, Marinduque – The Graduate Diploma in Cultural Education (GDCE) Batch 3 in Marinduque State College would be conducting an online qualifying test for Mimaropa on Friday, July 22 from 9am to 12pm. The qualifying test is also open to the National Capital Region, Calabarzon and Bicol divisions and districts. GDCE is a flagship of the National Commission for Culture and the Arts (NCCA) Philippine Cultural Education Program (PCEP).
There would be at the most 35 slots for the GDCE Batch 3, 25 from Mimaropa and 10 for other regions from Luzon and/or the conduit institution. The qualified teacher-scholars would be admitted to the MSC Graduate school and thus would be required to enroll, have an orientation, interview and start classes by August until December. Considering health and safety protocols, the level 2 by next year could have in-person or hybrid modality. The retooling of GDCE Faculty would also be expected to have integrated the Sustainability Development Goals through the Education for Sustainability and Global Citizenship.
The expected outcomes of the 35 teacher-scholars is to contribute to the region's creative economy, regional recovery and sustainable development. The first level CulEd courses are as follows: CulEd 200 – Pedagogy of Cultural Education; CulEd 201 – Diversity of languages and cultures; CulEd 202 – Re-view of history and heritage; and CulEd 203 – Philippine (literary) arts. Moreover, the teacher-scholars would also have culminating activities, capstone projects, web symposia, unconference and the like.
For the announcements, stay tuned at the NCCA PCEP social media accounts, the DepEd Mimaropa and MSC GDCE microsites.
pls. register: https://docs.google.com/forms/d/e/1FAIpQLScNziz571-O-BCnuUxfc1q5YzV4jFGXVlQOldUY01zmBF3xmA/viewform